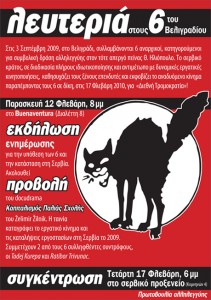 Freedom to the Belgrade 6
On September 3rd 2009, in Belgrade, 6 anarchists are arrested, accused for the symbolic action of solidarity to the -then prisoner- Th. Iliopoulos. The serbian state, which is in a process of total privatization and faces dynamic workers' mobilizations, calms down the foreign investors and terrifies the upcoming movement by sending them on trial on February 17th 2010, for "International Terrorism"!
Friday 12 February, 8pm at buanaventura (Dialetti str 8 ):
Info-night for the case of the 6 and the situation in Serbia.
After that, there will be projected by docudrama a movie:
"the Old School of Capitalism" of Zelimir Zilnik
The movie documents the workers movement and the occupations of factories in Serbia in 2009
2 of the arrested comrades, Tadej Kurepa and Ratibor Trivunac, participate.
GATHERING: Wednesday 17th of February, 6pm at the serbian consulate (Komninon str 4)
Solidarity Initiative