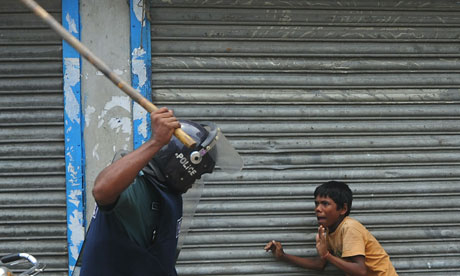 Police in Bangladesh using bamboo staves, teargas and water cannon fought with textile workers demanding back pay and an immediate rise in monthly wages on the streets of Dhaka today.
Witnesses said at least 30 people, mainly workers producing garments for global brands, were injured. Pictures showed children apparently being beaten. Ten policemen were also hurt.
Although there has been violence for several weeks, today saw workers erecting barricades, pelting police with stones and attacking cars. Police described the fighting as the worst yet seen.
Children under the age of 14 are banned by law from working, but campaigners say many can still be found in the sprawling factories. Hundreds of teenagers took part in running battles with police today.
Local reporters and union officials said a row between workers and a manager at one factory led to a fight which then sparked general disorder.
By nightfall, order had been restored. "The situation is calm. The problem has been solved," said Mohibul Haque, Dhaka's deputy police commissioner.
Many of the rioting workers are employed by plants which make ready-to-wear garments for sale in western high street stores.
"We worked for them," shouted one striking worker. "They are doing business and making money, but not paying us."
An estimated three million workers, mostly women, are employed in the Bangladeshi garments industry. The lower paid workers earn a minimum monthly salary of 1,660 taka, equivalent to less than £18. They have demanded an increase to 5,000 taka. Owners said last week they could pay no more than 3,000 taka a month.
"With inflation, many workers simply do not receive a living wage," said Khorshed Alam, a political scientist and executive director of the Alternative Movement for Resources and Freedom Society in Dhaka. "They know that the next chance they will get to force a pay rise may be in four or five years."
The garment industry accounts for more than 80% of impoverished Bangladesh's £10bn annual export earnings, according to commerce ministry data. The minimum wage, which is set by the government, was introduced in 1994 but remained unchanged despite soaring food prices until 2006. The result of the latest talks on the wage is due to be announced at the end of July. Until then, analysts expect the violence to continue.
"This generation of garment workers is much more literate and politically aware than their predecessors," said Alam. "They have grown up in the slums not the villages and know that they need to be united and to demonstrate in the streets to realise their aims."
A global report released last week by the International Trade Union Confederation in Vienna said Bangladeshi garment workers were the "world's most poorly paid" and that their exploitation was "on the rise".
The report cited a survey released last month by the Bangladesh Factory Inspection Department which showed that almost 15% of employers did not pay their workers on time between January and May. Many other factory owners did not pay overtime, while several continued to pay less than the government's minimum wage.
The garment industry accounts for about 40% of Bangladesh's total industrial workforce. Campaigners say wages have been cut by 20 to 30% recently in a country where almost half the population is already living below the poverty line.
Low levels of unionisation and organisation have meant protests that are chaotic but difficult for the police to predict or break up. Raids by protesters on well-known factories are frequent occurrences. Owners have hired their own gangs to protect their production lines.
Dozens of people were hurt in several days of unrest last week in the Ashulia industrial zone, 20 miles outside Dhaka, where nearly 300 textile factories were closed temporarily. Workers said that their employers had imposed lock-outs in an attempt to break their strike.
Abdus Salam Murshedi, president of the Bangladesh Garment Manufacturers and Exporters Association, has said the violent protests have created "panic and anarchy".
Factory owners argue that the unrest risks frightening away western clients who need reliable deliveries. Murshedi refused to comment today.
Moshrefa Mishu, leader of the Garments Workers Unity Forum, said that during the last round of unrest and negotiations the major overseas buyers had put pressure on the local government to improve conditions and pay in the factories. "So far they are silent this time," she said.