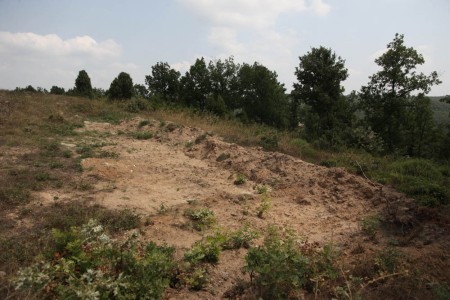 On 25th of June 2010 1
9 people drowned in the river Evros/Meriç
. 14 corpses washed ashore on the Greek side and were brought to the university clinic by an undertaker from Orestiada. After the dead had been examined and registered, the undertaker brought them to a village of the Turkish minority on the mountains above Souflí for them to be buried on muslim cemetery.
However, the corpses can now be found in a mass grave outside the village of Sideró, in inaccessible terrain. Only a sign, riddled by many gun-shots, tells that this is the
cemetery of the illegal immigrants
where the corpses are buried. It is not immediately obvious that it is a mass grave. Upon closer inspection, one can however see holes that were excavated and again filled up by bulldozers and that can contain up to ten corpses.
Further investigation by w2eu, currently in the area to look for the corps of the father of a family who died in the incident on the 25th of June and whose family is currently in relative security shows that this practice has been ongoing for years. It is believed that between 150 and 200 dead have been buried in the mass grave. Although the local government ordered an ablution and burial according to muslim rite, the dead have merely been buried in the mass grave. This practice fundamentally lacks any respect for the dead as well as their relatives. Even an exhumation for the dead to be buried in a more dignified way is not possible anymore.
The existence of this mass grave at the external border of the EU fits the image of constant and continued humiliation and degradation of refugees. It is with a systematic brutality that refugees and migrants are stopped from crossing the borders, a brutality that even puts up with the death of those looking for protection. Even after their death, those human beings remain second class people that seemingly not even deserve a burial of human dignity.
We protest the abominable treatment of refugees and migrants and the contempt that is shown to them, no matter if dead or alive.