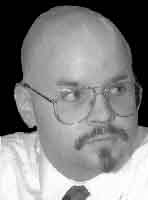 thomas meyer-falk
for now
c/o jva bruchsal
schönbornstrasse 32
d 76646 bruchsal
germany


born in 1971, i have been imprisoned since 1996. at first i was kept in isolation in stammheim, then i was kept in straubing for a short time under slightly better conditions. since september 1998 i have been in isolation in bruchsal. i am a so-called "red skin"/rash = red & anarchist skinheads.
i was sentenced for a bank robbery by means of which it was planned to organize money for political projects. in two additional court cases i was sentenced for insult, intimidation, and the threatening of judges and public prosecutors. the expression "perfect example of a fascist-like judge" by itself was worth 7 months of imprisonment (§ 185 stgb - insult; sentence: monetary fine or fine up to one year of imprisonment).
because of all this i have to spend 15 years, 9 months and three weeks in prison. due to my alleged dangerousness (during the trial i had offensively pleaded my cause instead of giving in and "regretting") i shall be kept under arrest ("sicherungsverwahrung") afterwards.
freedom for Meyer-Falk?
Almost 12 years ago i have been arrested and in 1997 sentenced to 11 years and 6 months of prison, as well to sicherungsverwahrung (note: a german law which prescribes a social-psycological analysis regarding certain prisoners who seems to not redeem through prison; following a negative result of such appraisal, authorities can keep the person in prison for longer time after the actual end of his/her sentence).
Within the following three trials, 5 years and three months have been added to the previous sentence, because many politicians and jurists felt to have been either insulted or threaten by my person.

2/3 of the sentence have been finished in november 2007; therefore i have applied for my release from prison.
In fact, the paragraph 57 of the penal code prescribes the possibility of an earlier release after 2/3 of the sentence, as long as such decision " takes in consideration the security-interests of the collectivity", say one does not have to expect any further crime by the person (defacto such an earlier release takes place only in 30% of the times).

Because of the overwork of the judge, the sickness of the chief judge Kleinheinz and a change of my lawyer, the process took longer time.

The prison of Bruchsal, in the figure of miss Göbel, took position several times on this: they could not support an earlier release in my case.
The main reason for this would be that i never "show publicly any empathy for the victims of (my) crimes", i would put in question the objectiveness of those facts, everytime i write something, politicians and judges would feel often threaten from me.
I would refuse to speak with the prisons´s worker-in-charge regarding such cases.
However, my "behavior towards the prison´s workers (...) became clearly less confrontative (talking about my "love to make complains"), but, as the prison establishment wrote within their most recent claim, i would not aloud "any deeper access to (my) personal experiences and feelings to the prison workers".

With a directive dated 18.4.08, the court ordered a new criminal prognosis.
The professor Foster (university of Tubingen) has been ordered in charge of this.
Since i will attend a learning course in the prison from june 2008 (for which each partecipant has to pay 500 euros), i asked the appraiser to begin his work after the end of the course.
I also send him the bill of that course and told him i would be ready by november or december.
However, i fought with the Bruchsal prison about where such appraisal would be supposed to take place; miss Göbel desired my transfer towards Tubingen, so that one perhaps would have found out how i would react/behave within a different context.

I personally answered that i would have than refuse such appraisal upon my eventual transfer to Tubingen.

This decision has been taken because normally one has to hold out around three weeks inside a dirty, cold transport-cell.
Visits and phonecalls are hardly possible if not at all, there is not any offer regarding free-time; without even mentioning that already the form of how one gets moved through big prisoner transport-buses is considered as degrading, even by some jurists.

Most prisoners play the game of the Justice, take place in the bus and sit afterwards calmly in their transport-cell, only to become angry later and tell about how the conditions have been miserable and that one should "actually" do something against it.

Therefore my lawyer told to the court that either the appraisal would have taken place in Bruchsal, or it would have been refused.
Moreover, i added that the prison establishment could test me freely within a changed environment, say putting me in daily leave (which they of course refused to do).

Realistically, one has to see that there is not chance for an earlier release.
There is not any appraiser who would consider a prisoner, who spent almost 11 years in isolation (until may 2007 i have been sitting in an isolation-cell indeed) to have high chance for a life free from crimes.
And without such a positive prognosis, no release will follow.

Moreover, it is also a question about one´s principles!
I am still fully convinced of the idea that i have a right to my freedom – without any consensus by whichever state apparatus.
And what i also will do after my release, this is my choice and no matter of any court or prisoner´s jurist, if what i am going to do afterwards will be in conflict with the laws of this State or perhaps even not.
Do i really want ot win back my possibility towards a freedom of movement at the price of the readiness to be morally corruptable, since i would submit myself to the subtle games of State, sometimes a bit more, some other a bit less? A point to which submission belongs in the first place!

And at this point i simply say "No!".
No, neither i do want this, nor i will do this, even in the case that this would mean that the doors of the prison will not open voluntary for me further on.
Was Mao who wrote that within the struggle against your enemy every lie is usable?
Therefore should i pray the social worker, the psycologist, the jurist, the judge and the appraiser, as many other prisoners do, make them nice eyes and tell them, what a nice, in-line man i become?
And also to such a point, i say simply and clearly "No!".

This does not have to do anything with the fact that i like to play the "martyr", but it simply horrorifies me physically to have to bend myself.
I have pity of all prisoners who play from the very beginning the little games of the Justice, only to complain and swear afterwards.
Is my freedom important to me? Of course!.
Of course, my freedom is important to me; but the way to it is as much important.