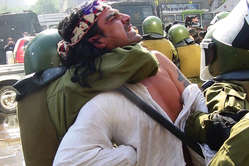 Mapuche protests are often met with a violent police response

Thirty-four Mapuche prisoners in Chile today entered the sixty-fifth day of a hunger strike. The protest began to highlight the use by the Chilean government of anti-terror legislation to criminalise attempts by the Mapuche to recover their ancestral land.
Although the Mapuche were only conquered in the 19th century after many years of resistance, most of their lands have since been confiscated by logging companies and wealthy farmers.
Several days ago four Chilean MPs who were visiting the strikers in jail announced that they were themselves joining the hunger strike.
The decision to prosecute the Mapuche under Chile's strict anti-terror laws means that they can be detained indefinitely; tried in military courts; and receive far harsher sentences than would be the case in a civilian court.
In a belated response to the hunger strike, Chile's President Piñera has proposed some modifications to the anti-terror legislation. The Mapuche, however, charge that these changes were planned anyway, and there is widespread suspicion that the government's real motivation is to concede just enough to end the protest before Chile celebrates its Bicentennial on September 18th.
Chile ratified the key law on indigenous peoples,
ILO
Convention 169, two years ago, but has made little progress in implementing its provisions.