1) ECOTAGE AT ELITE HOUSING CONSTRUCTION SITE
"A tracked dozer was torched by a group of

ELF

activists during the night of the full moon (22-23 of december). The vehicle was used as part of a gentrification project in a Moscow region, where local authorities decided to build an elite housing on the shores of a picturesque forest lake. As usual, the rich should pay a little more for their arrogance and disdain for common people (who were robbed of a place to walk and swim at), but most of all – for their raping of nature. Merry crisis and a happy new fear from russia!
ELF-Russia"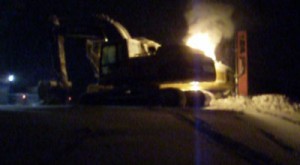 2)
"

ELF

torch highway construction vehicles during New Year festivities
A new industrial development program kicks off in Russia for Moscow region starting from 01.01.2011.
It implies 90% deforestation works that will hit what's left of local nature and wildlife, with numerous problems in tow like draughts, fires, polluted air and further deterioration of city ecology.
So in a gesture of contempt and defiance of these plans we set 2 excavators and an asphalt-laying contraption. Vehicles went up in flames soon after the clock hit 12 am, to the sound and light of various fireworks. It was a sight to behold."